Dorte Jensen, Kennel Sweet Beauty, and I wanted to go to Crufts and show Dkch Lvch Sensei's Charlie's Angles aka Diva and her son, Sweet Beauty Keswich Codlin aka Codlin. The judge was Sue Dolan, UK.

Codlin was entered in "Yearling dog", where 12 dogs was entered. Codlin was still in the ring after the judge's first "goodbye", but wasn't placed. Codlin was enjoying the ring that much the speed got a little too fast, but I still think he showed nicely.

Diva was only allowed into "Open bitch", where 15 bitches was entered. Diva is winning the class and she is very "on her toes" all the time. As you can see in the picture the very pretty bitch, Honeyhall Hide N Seek, from Ian Show was no. 2 in the class.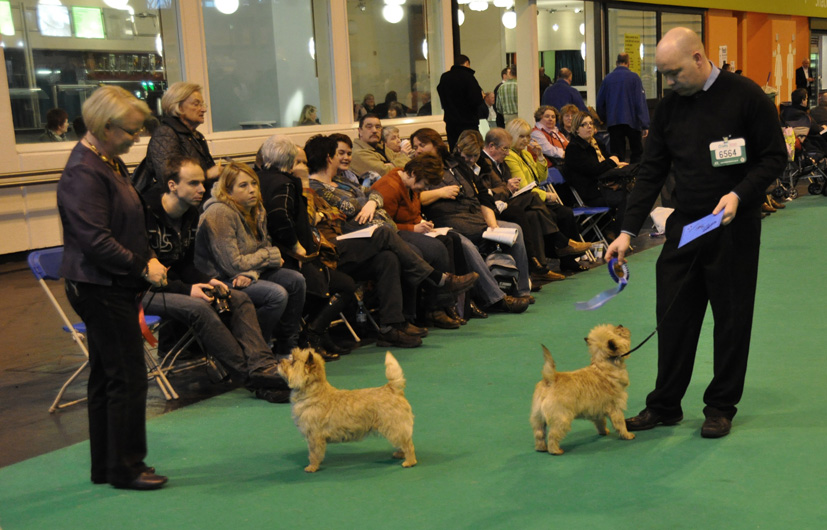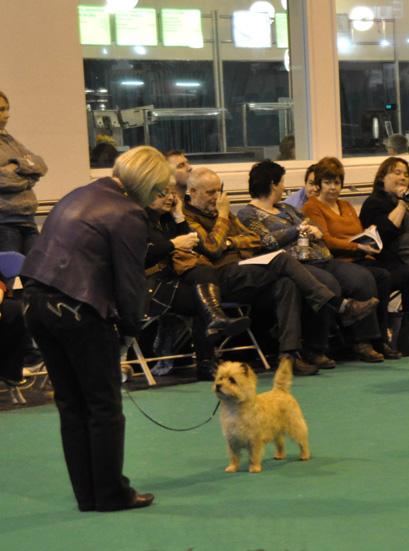 Now we are competing for BCC and RBCC ! The class winning bitches are lined up with Diva as first and they are all send around the ring after which a bitch down the line is placed as 2nd. behind Diva, which made us think we got the BCC and the bitch behind was winning the RBCC, but this wasn't the case.

Instead the judge is looking very long time at the bitch behind Diva and down the line. After what to me felt like forever the judge goes down the line and award the BCC down the line and then again a very long time is passing before Diva is awarded the RBCC.

Beeing placed in the spot where the DCC was given and not getting the BCC was at the moment disappointing, but after a while and some thinking it over again, we agree that even though we of course "wanted" the BCC we had to be proud of being awarded the RBCC at Crufts. 
 
The judge wrote about Diva: 
"1st. Jensen's DK/LV CH Sensei's Charlie's Angles, very pretty wheaten of correct size for the breed standard. She demanded attention. Lovely head with a correct mouth, neck and shoulders, dead level topline, good tailset. An excellent mover with true front movement and plenty of drive from the rear.  Never stopped showing. Reserve Bitch C.C."