Dkch Tam O'Shanter's In The Nick Of Time,
09.12.1995 - 20.09.2010.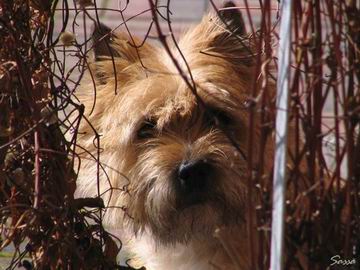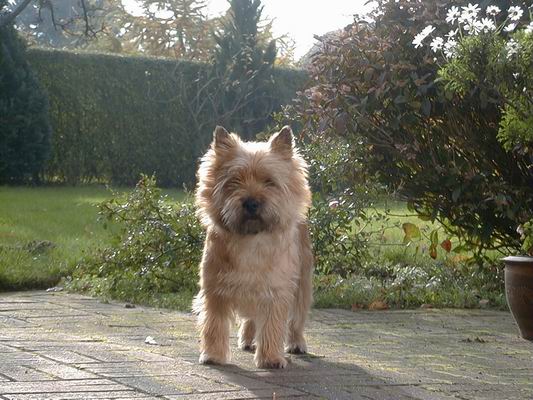 intch nordch ww96 euw97 kbhv96-97
Rasken's Red Ranger
nordch intch sv98 Rasken's Robbie Robinson
sech nordch Rasken's Robert De Niro
Rasken's Ray Charles
Rasken's Rififi
Sech Rasken's Randie Howard
Sarimont Simon Templar
Rasken's Raring
sech Tribuns Yrsa
sech Rasken's Rodney
Roughyline Ashy-ambrose
Rasken's Rödluvan
nordch intch Tribuns Ronja Rövardotter
Tribuns Oberon
Tribuns Nike
Tam O'shanter's Chipper Lassie
Neslein My Name Is Moon Shadow
Dansprig's Fern
Maskot Robin
Lanngkins Sprig
Rossarden Irish Velvet
Rossarden Mr. Singleton
Rossarden Royal Lequeur
Tam O'Shanter's Cirkel
Lanngkins Sandboy
Snorrehus Jarramas
Dancairn Pernille
Dancairn Camilla
Snorrehus Peppy
Juvena

2005: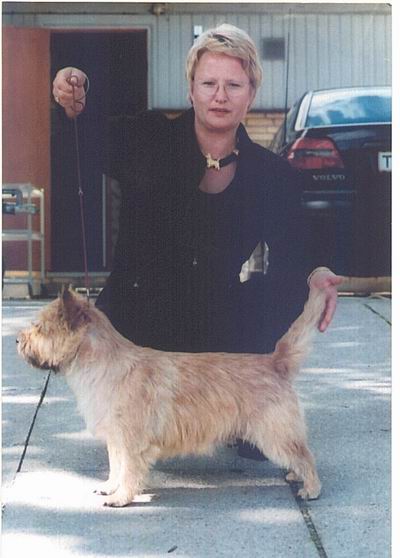 BEST CAIRN TERRIER SENIOR OF THE YEAR
BEST TERRIER CLUB SENIOR OF THE YEAR NO. 2

2004:
BEST CAIRN TERRIER MALE NO. 9.
BEST TERRIER CLUB SENIOR OF THE YEAR NO. 1
BEST ALL BREED SENIOR NO. 10.


Veteran class:
07.04.07 - After nearly 14 months unplanned break from the show ring due to a bad back Dkch Tam O'Shanter's In The Nick Of Time quite amazingly makes a comeback to the show ring. At a national show under breed judges Alex Krasilnikoff he becomes best veteran and later on the day in ring of honour Nicky is placed as BEST IN SHOW 2 VETERAN !. When you are almost 11,5 years old it's a bit tirering going to shows, so the next day Nicky took an extra long and well deserved nap in "mothers" bed



Veteran class:
19.02.06 - DTK - Walter Jungblut, D - 1p. + 2. winner.
18.02.06 - DKK - Phillip Greenway, UK - 1p. + 1. winner + best veteran male.

Nye titler i 2005;
Cairn Terrier Senior of the year no. 1, and
Senior of the year no. 2 in The Terrier Club.

Veteran class:
05.11.05 - DKK - Paolo Dandina, I - 1p. + CK + 1. vinder + bedste senior. "Excellent show condition for his age, masculine head, good pigmentation, good coat, good depth of chest, good movement and showmanship"

Senior class:
10.10.05 - Open show - Jens Martin Hansen - BOB + BIS 1 SENIOR + BEST IN SHOW.
18.09.05 - DTK - M. Supronowicz, PL - 1p. + CK + 1. winner + best senior + BIS 2 SENIOR.
17.09.05 - DKK - Sean Delmar, Ir - 1p. + CK + 1. winner + best senior.
14.08.05 - DKK - Lillian Brown, DK - 1p. + CK + 1. winner + best senior.
12.06.05 - DTK - S. Dolan, GB - 1p. + CK + 1. winner + best male no. 4 + best senior + BIS 1 SENIOR.
27.03.05 - DTK - Frauke Hinch, D - 1p. + CK + 1.winner + BIS 1 SENIOR.
12.02.05 - DTK - Marina Guidetti, I - 1p. + CK + 1. winner + best male no. 4 + Best senior + BIS 1 SENIOR.

New titles in 2004:
Best Danish Cairn Terrier male no. 9.
Danish Terrier Club: BIS TERRIER SENIOR NO. 1 
Danish Kennel Klub: BIS SENIOR ALL BREEDS NO. 10 IN 2004.

Senior class:
06.11.04 - DTK - M.E.J. Meijer, NL - 1p. + 1. winner + best senior + BIS 3 SENIOR
18.09.04 - DTK - Grethe Bergendahl, N - 1p. + 1. winner + best senior + BIS 1 SENIOR.
04.09.04 - DTK - J. Parker-Tucker, GB - 1p. + 1. winner.
15.08.04 - DTK - Rainer Jacobs, D - 1 p. + 1. winner + CK
14.08.04 - DKK - Kari Jarvinen, F - 1p. + 1. winner + CK + best male no. 3 + best senior BIS 3 SENIOR.
04.07.04 - DKK - Elsbeth Clerc, CH - 1p. + 1. winner + CK + Best senior + Best male no. 4. "Showing good condition, typical in head and expression, well built, solid body, hard coat, nice to see a dog in this condition."
03.07.04 - DTK - Bengt Nilsson, S - 1p. + 1. winner + CK + Best senior + BIS 2 SENIOR "Lovely senior and a true cairn terrier, still en winner in the ring."
06.06.04 - DKK - Yvonne v.d. Bogert, NL - 1p. + 1. winner + CK.
05.06.04 - DKK - Britta Roos Børjesson, S - 1p. + 1. winner + CK
18.04.04 - Germany, Kft - K. Wiberg, N/GB - V1 + best senior/veteran + BIS 1 SENIOR/VETERAN. "Lovely dog. High class. Beautiful head. Full of charme and personality. I love him much."
17.04.04 - Germany, Kft - E. Heidecker, A - V1, best senior/veteran + BIS 1 SENIOR/VETERAN. "8,5 jahre alter vorz. aufgeb. Rüde, kann sich als veteran sehen lassen, wunder schöner Kopf, sehr tempervoll, zeigt sich freudig, vorz. gangwerk, ein typischer vertreter seiner rasse. Ich kann dem besitzer nur gratulieren."
21.03.04 - DTK - David Winsley, GB - 1p. + 1. winner + CK + Best Senior + BIS 2 SENIOR "Moves and showes very well - congratulations to his owner"
20.03.04 - DTK - Birthe Steffensen, DK - 1p. + 1. winner + CK "Showing himself off with the courage of the jouth. Moving free, efficently, parallel and with lots of drive."
15.02.04 - DTK - W. Ronald Irving, UK - 1p. + 1. winner + CK + Best Senior + BIS 1 SENIOR.
14.02.04 - DKK - Raija Jarvinen, F - 1p. + 1. winner + CK + Best senior + BIS 2 SENIOR.
18.10.03 - Open cairn show - Kevin Holmes, UK - Best Senior + BIS 6.  "Very nice quality in excellent condition for age."
17.08.03 - DKK - Hassi Assenmacher-Feyel, D - 1p. + 1. winner + CK + Best Senior + Best male no. 2. "Super condition and confirmation. Beautyfull head, very masculin, excellently build body in all parts. Strong mover. A big compliment to the owner."
16.08.03 - DTK - B. Hasselgren-Ericsson, S - 1p. + 1. winner + CK + Best Senior + BIS 1 SENIOR.
09.02.03 - DKK - Tom Hehir, Ir - 1p. + 1. winner + CK + Bedste Senior + BIS 3 SENIOR
08.02.03 - DTK - J. S. Fernandes, E - 1p. + 1. winner + CK + Best Senior + BIS 3 SENIOR.

Champion class:
14.07.02 - DKK - Svend Løvenkjær, DK - 1p. + 2. winner + CK
13.07.02 - DTK - Pia Lundberg, S - 1p. + 1. winner + CK + Club CC + Best male no. 3
03.03.01 - DTK - Frances Hickey, Ir - 1p. + 2. winner + CK + Best male no. 4
11.02.01 - DKK - F. A. Somerfield, UK - 1p. + 4. winner + CK
16.09.00 - DTK - M. E. McKinlay - 1p. + 4. winner + CK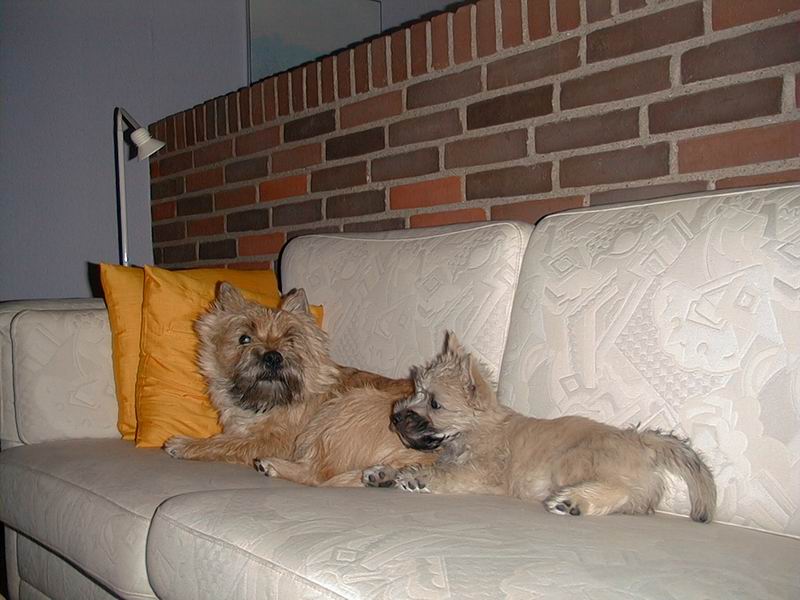 Open class:
19.03.00 - DTK - Gerard Cox, IR - 1p. + 1. winner + CK + best male no. 2 + CC no. 3  = DANISH CHAMPION
15.08.99 - DKK - R. Envall Larsson, S - 1p. + 3. winner + CK
02.05.99 - DTK - Cindy Pettersson, S - 1p. + 1. winner + CK
01.05.99 - DKK - A. D Scholten, NL - 1p. + 1. winner + CK + Best male no2 + CC no. 2 + R-Cacib.
10.04.99 - DTK - Berit Foss, N - 1p. + 1. winner + CK + CC no. 1 + Best male no. 3
14.02.99 - DKK - Joy O'Conner, IR - 1p. + 2. winner + CK
13.02.99 - DTK - Dubravka Reicher - 1p. + 4. winner + CK
04.10.98 - Open show, Svend Løvenkjær, DK - 1p. + 1.v. + BOB + BIG + BIS open + BIS2
15.08.98 - DKK - Ingrid Borchorst, DK - 1p. + 4. winner + CK
15.02.98 - DTK - Frauke Hinsch, D - 1p. + 3. winner + CK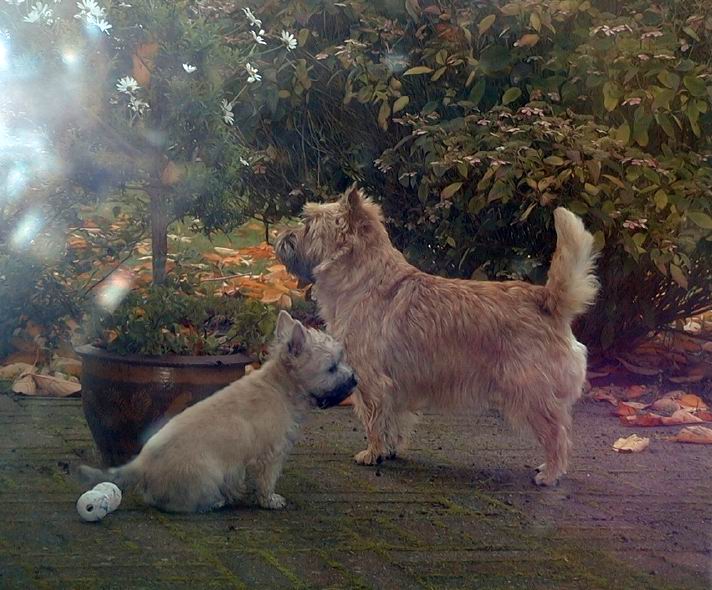 Intermedia class:
02.11.97 - Torsten Himmrich, D  - 1p. + 1. winner + CK
01.11.97 - Micklethwaite, UK  - 1p. + 3. winner + CK
26.10.97 - Jarno Corneliussen, DK - open show -1p. + 1. winner + BOB + BIS2
20.06.97 - Kevin Holmes, UK - Europe show - 1p. + 2. vinder. 







Youngster:
04.05.97 - Lillian Brown, DK - 1p. + class winner + CK
03.05.97 - Walther Jungblut - 1p. + class winner + CK