This story is about what a dog show may lead to. Herning, November 2010. In many ways a nice show weekend, during which my endeavours to lead a cairn to the top fell into place on Saturday already. Thus, Sunday was very relaxing and ended up in the very best way, so that I was supposed to show the dog in question in the main ring. I was standing in the pre-judging ring, enjoying myself wonderfully. Then we entered the main ring, and I was selected for a place within the group. The Airedale won the 4th place, the Jack Russel Terrier the 3rd, leaving the Cairn Terrier and the Staffordshire Bull Terrier to be assessed. You bet this was getting exciting now!! Our turn now, and at the end of a perfect weekend we had an even more perfect result: a group winner! BUT! Let's go back in time a bit: The Cairn Terrier and the Staffordshire Bull Terrier are sent about in the ring, and we have almost completed our round, as the Cairn Terrier is proclaimed the winner. Without even thinking, rather as a result of an automatically triggered muscle twitch, I take off on my right leg for a – as I thought at the time – jump as high as right up to the ceiling (which, however, proved to have been merely a very modest skip), and at the same time I hear a tremendously loud crack. At that moment, I did not connect this crack to my own person, but merely recognized it as a strange sound coming from somewhere behind me. At the point where I touch the floor again after my "giant jump" I'm thinking, "Oh, oh – I think you missed your footing there, old pal", I take another step and one more, and – again – get a feeling that I miss my footing and that my foot refuses to respond, let alone obey my orders. So I stop in my tracks and look down at my foot, and it feels as if my toes have fallen into some sort of hole in the ground. "Well, I must be getting on", I think, and limp on to the podium to tell the judge that I'd probably ruptured my Achilles tendon. The judge answered, "It certainly sounded, as if …..". I can't be bothered about that, because the next thing to be done is the taking of photographs, which is, of course, totally impossible with me jumping about there on 1 ½ legs. So the normal lap of honour is called off, as I am, literally speaking, being dragged out of the ring.

Outside the ring I was placed on a chair with my leg propped up. Somewhat later the first-aid people (3 of the kind) got ready to get going, or rather, they tried to. One of the first aid men tried to take off my shoe, a task which caused him huge problems, until I suggested to him to untie the lace first. After that the shoe goes off without problems. It was established that my Achilles tendon was ruptured, and I was told that an ambulance will be arriving shortly – in abt. 5 minutes – to take me directly to the operating table. One of the first aid-men tried to fasten a bag of ice cubes to my ancle by applying of some sort of bandage to fix it there, but he  wasn't very talented in that respect, so I hastened to do that myself while contemplating what more to get organized before the ambulance arrived. I'd got to be quick, because the dog was going into BIS, and who's supposed to handle the dog?? Well, somebody else took care of that.

The first aid men asked me whether I was in pain, but apart from that fact that it felt as if something was biting my calf from behind, I felt quite ok. "Would you like a bit of oxygen?", they asked me. After having enquired what good oxygen was supposed to do and having received the answer that oxygen would take the peak of the pain, I asked them to "bring it on". So there I was, sitting on a chair with my ice cube bag-bandaged leg propped up high AND an oxygen mask across my face. AND, I of course had to find a solution as to how to get my dog and my car back to Funen, since my own way would lead directly to the operating table. It, fortunately, turned out that Michelle, one of my handling class students from Svendborg, and her boyfriend were also visiting Herning this weekend. Excellent! I filled her in as to where my car was parked and how my GPS was working, so that both dog and car could be returned to Funen. Done! Michelle repeatedly offered to come along to the hospital, but I politely turned her down. No need for that since I myself would be taken straight to the operating table.

In the meantime, the 5 minute's wait had gone by several times, and there was still no sign of the ambulance appearing. The big double doors of the hall, however, had already been opened so that the ambulance could go straight up to get me. To put it mildly, the cold and stiff wind coming in through the double doors slowly got the best of me, and I felt cold and uncomfortable there on my chair. To be honest, I started to feel nauseous, my head felt drained of blood, I felt like being drifting away and sensed that I was about to lose control. Due to the terribly long wait and the stiff and steady breeze upon my back I felt an irresistible urge get to the "loo", but the first aid-man judged that wish to be absolutely out of the question. Ok, my little pee would have to wait for a bit then ……

At long last a vehicle – NO, not an ambulance, but a huge taxi carrying a very narrow stretcher - arrives. The helpers ferry me onto the stretcher, cover me with a dog's blanket, and off I go to the cab waiting outside. 4 people are following the stretcher to the taxi in order to help placing it - and me on it - on the back seat, a task which you – considering the number of helping hands – would think would be an easy one to deal with. But no! That one went all wrong. Nobody knew how to undo the lashes of the stretcher wheels, and the four of them had a hard time trying to simultaneously balance the stretcher and fold up the wheels, and by the time they succeeded, I myself had almost fallen off twice. After a number of attempts they gave in and somehow got me into the car. At THIS point of time I felt so goddamn cold and nauseous and convinced that "a little something" would be flowing out of my body from somewhere up OR down within the next 5 seconds at the latest. I leant back in the seat and tried to take deep breaths in order to avoid said situation. The distance from Herning Messecenter to the hospital is a drive of about 10 minutes, and surprisingly I recovered and got to feel a lot better within this short period of time. To be honest, I almost thought of myself as a hypocrite! How could that possibly be that I felt so miserable just a few moments ago and now my brain suddenly started functioning again?

Finally we arrived at the hospital and I took it for granted that somebody would come to help to get me out of the car. But no! Somebody has put a wheelchair on the pavement next to the taxi, and it's up to me to somehow get out and over there. After that somebody takes the wheelchair into the building, and I hasten to tell everybody that there are certain things to consider, if I am about to be put on the operating table, but this information doesn't seem of any interest to neither the nurse nor the doctor. I keep wondering about this wonderful brightness and clear-thinking brain of mine, I have a strong urge to inform that doctor about this, and so I did. His answer was: "God knows that's no wonder!", which, in return, totally baffled me. It turned out that an amount of oxygen of about 1 liter would have been the normal dose to give, and I had been given 10 litres – a dose which normally brings about a state of mind equivalent to that of a person either completely high, stoned or drunk. After having examined my leg and established the rupture of my Achilles tendon, the doctor called for a special kind of boot to be brought. They put my leg into the boot, whereupon the doctor – or was it the nurse?? – informed me that I might go home now. Go back home?? I was supposed to have a surgery, goddammit! Well, obviously I wasn't. At this point of time, everything started going haywire. How was I supposed to get back home? Everybody, including my own car, had left Herning! I called several people to get the mobile number of Michelle who was on the road in my car on her way to Funen. In vain. I asked the staff whether it would be possible for me to stay the night at the hospital. No chance. So I started picturing myself sitting in a transport wheelchair outside the main entrance of the hospital in Herning, alone and miserable, until I'd come up with a solution to my transport problem myself. Finally, my husband and I agreed that he would start driving from Svendborg towards Herning in his car, and I would take a cab going in the direction of Svendborg, whilst we would both maintain a dedicated telephone line to agree upon a meeting point somewhere in between in Jutland. So I did get home in the end

My trials and tribulations aren't over yet, but at the time of writing I have dismissed the boot and can go for short walks of about 20 minutes' time. Thus, though obviously too slow for my terrier's temper, things ARE getting better.

Now, what's the news at your end???

(A big "thank you" to my sister in law, who did the translation from Danish to English)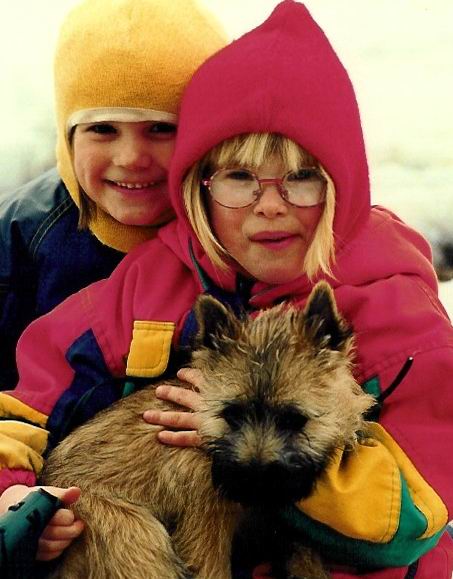 For my part, I have to admit that it was a coincidence as I would actually rather have preferred a somewhat larger dog, but since our daughter was only 5 years old at the time, it was essential to find a smaller dog that wouldn't run her down when playing.

When considering the purchase of the first dog, a lot of people probably tend to think back and select a dog from childhood carefree time, but I never had a dog as a child. So I went to the library to borrow books - many books :-) - which were thoroughly studied over a period of almost 2 years. Finally, there were 3 options left, and when the possibilities were presented to the family, there was no doubt that the choice had to fall on a Cairn Terrier.

Our choice of the Cairn Terrier was confirmed one day in Nyborg – at that time there still was a  ferry service  between Funen and Zealand. I was supposed to pick up some family, and while we were waiting for them at the terminal, we watched the crowds disembarking  the ferry. Among the people comes a man with the largest black German Shepherd I have ever seen. The German Shepherd quite clearly radiates that he's a big big boy ...... until, from behind, a Cairn Terrier comes pushing forward between all the people in front of him in an irresistible urge to be first, and ends up by the side of the German Shepherd. I can assure you that this huge black German Shephard was told - in a very clear dog language - to step aside to make space for the Cairn Terrier!

I was somewhat worried that, in the blink of an eye, the little Cairn Terrier would be referred to his place in the pecking order, but no  .... It was the German Shephard, who had to bow to Cairn Terrier.

Often, you will see the attitude from a Cairn Terrier showing that he is not even aware of the fact that his height amounts to only about 30 cm at the shoulders.

So when we say that a Cairn Terrier is a BIG dog in a small body, that's absolutely right.

The next question, then, was to decide how and where to find a Cairn Terrier, who would also meet the descriptions of all the books? The Danish Kennel Club was contacted and here I got the phone number of the breed representative, and I got in touch with Helle Møller Bjerregaard, Kennel Tam O'Shanter's.

In March 1996 we got our first Cairn Terrier, who was bought as a family dog. Later, however, he  was to turn out to be a little more than that.

A small warning: If you buy your own Cairn Terrier you risk becoming infected with the virus that makes you crave for one more and one more and ......












"Oops I Did It Again" would be a very appropriate beginning of the story of my trip to America. And what DID I, actually, do again?

Well, I did say YES to come to USA with my dog Zalazar Yahoo without having the faintest idea of what could be expected of surprises, and had I known what my dog and I would have to go through, I might have reconsidered my commitment. 

In fact, we need to go back to 2001, when my dog wins BIS 3 JUNIOR. The success was also a very special one, since I was sick throughout 2001, and therefore had sent my dog into last year's exhibition with his breeder, Mette Sørum of Kennel Zalazar. At home. I waited impatiently to hear news from the show, and it turned out that Mette had plenty of dogs to show at the exhibition, and therefore had allied with Soren Thomsen of Kennel Nordcairn, who showed my dog to BIS 3 JUNIOR. I hasten to, once again, say a big thank you to Mette and Soren for their help. I am sure that I said thanks already in 2001, but a good deed can not be done too often.

When you are ill, and unable to do many of the things you want to do, it's just so cool to hear how well it had gone at the show, and the family still speaks of this day as the day, when I danced wild indian dances in "a wild Indian dance in the flush of victory".

Of course, I sent emails all around the world to tell the news, and then I received a special mail from a lady in the U.S., who said she would think my dog to be just yummy, yummy, yummy ....( hmmm sounds like a Matas-advertising jingle). Over the past 6 years, this lady has consistently encouraged me to come to the United States to exhibit my dog, but but but …… the U.S. is thus not just around the corner, so for several years, we just kept talking about it.

Meanwhile, my dog was now 7 years old, and I thought that, if I was going to go, it had to be now and in previous years, I had indeed, with reasonable success shown my dog in other countries, and had acquired some titles, so the possibility of adding the title of American Champion was enticing, but probably not realistic, as I would have to compete against many professional handlers. The agreement was made, the ticket was booked, and the day in the middle of October dawned, when I was to set off  with my dog.

At the Copenhagen Airport, I already ran into problems, because I was not allowed to leave to the US, before being able to present my destination address. I hadn't given that any thought, because I was supposed to be picked up at the airport, and I took it that my friend would very well be able to find her way home from the airport, but there was no getting around this problem, so in the very early morning I had to make some phone calls and got the problem solved. So far, so good.

I flew from Copenhagen and arrived at Atlanta Airport 9.5 hours later, where I had 1,5 hours at my disposal, before going on the next airplane. Well, I had checked it out if 1,5 hours would be enough time to get my dog onto the next plane, and I was told that this would not create any problems. What no one had taken take into account beforehand was the fact that my plane had a  30-minute delay across the Atlantic, but I had good help in getting checked-in both my dog and my luggage, and then I ran the best I'd learned in order to get to the next flight, only to reach the gate and see that the door was being closed. My shoes had gnawed a bleeding blister into my left heel, so I hobbled down to the service center to find out, if my dog had got on the plane or not. Fortunately, this was not the case, and I asked the service center to give the folks a call and let them know that my dog needed water, and the service center told me they would take care of that. 

Then I got a standby flight for ( Danish time). This flight, however, proved to be overbooked. Another trip to the service center, where I got the message that my dog, fortunately, was not on board that plane either. At 20.10 hrs (02.10 Danish time), I was told, I would certainly be on the plane, and so I hobbled off towards the 3rd new gate.

Of course, each departure had a new gate, so I walked (or rather hobbled) a few km that day. Finally , I arrived at the gate, from which I would hopefully get to my destination, and I asked about my dog again. I was assured that everything was in perfect order. This plane was delayed, too, and  t was 20.30 (02.30 Danish time) before I boarded the aircraft. Here, I asked the stewardess to kindly advise me when my dog had got on board. Nice and smiling she was, the stewardess, and promised to let me know immediately. The message came shortly after; she came down to my seat and told that my dog was  on board.  ... .. Deep sighs on my part and lifted thumbs from my fellow passengers. Also, it said over the speakers, "Welcome to the Danish dog on board", but ,unfortunately and only seconds later, the stewardess came down again and told me that "your dog is not on board and we do not know where he is!!" An elderly gentleman was very upset on my behalf and notifed the stewardess of the airline's liability and responsibility for the dog being comparable with the responsibility for a child and, finally, that they had to find my dog immediately and bring him on board!

It would have been wonderful, if that had actually happened, but it didn't. On the contrary, they gave me the choice between staying on board or getting off the plane. At the time, there was no option to me but for me to leave the plane in order to find my dog. When leaving the plane my choice of words, amongst others, contained words like SHIT, and I also managed to utter that I was not in any way impressed by the performance of the airline. Back at the gate, my pitch was "slightly" higher than normal when saying that "I now fucking demand that you immediately find my dog"! Quite cold in the a callously and unsympathetically I was informed that I was not in a position to ask for anything and that the police was on its way because of my unacceptable behavior on the plane ????? And, indeed, 2 Terminator-like police officers with various equipment, including pistols, arrived a moment later. "Damn it", I thought, as  it was now necessary to keep calm, if I did not want to spend the night behind bars. Inside, I felt appalled that my dog had disappeared and fatigue had also gradually taken its toll, since I'd been up since in the morning (Danish time, of course). I did, however, calmly explain to one of the officers (the second one had left again - probably after having assessed that his remaining colleague would, if necessary, be able to throw me into the floor and put me in handcuffs without any problems!) what had happened during the last many hours, and how I had repeatedly asked for my dog and had always been told that everything was under control, which it obviously wasn't since my dog had now disappeared! The policeman was very helpful and in the meantime, the company had found out that my dog had flown on at an earlier point of time. "That's, nice, really nice (not)", I thought, but I abstained from speaking that out loud.

Immediately, I called my friend, and she told me that my dog had been present since 19.00 in Knoxville, but luckily she had already found out by calling the airport of arrival, and that the dog was now safe at home with her. She also told me that there is a last departure from Atlanta at about (04.00 in the morning Danish time), and I, therefore,  tried to check out, if I could get on the flight at . The answer was a pure demonstration of power, since it sounded: "Madam, you are not flying anywhere today." Great !? As if one would smile and be satisfied with this answer, just because you are spoken to with "madam"!. The airline condenscended to offer me a connecting flight leaving the next morning at 08.00 (14.00 afternoon Danish time)

At this point, I was so close to thinking that a trip back to Denmark would be more attractive, and the last message was  not particularly invigorating to my already washed-out body. The policeman was now talking to the company about accommodation. "Yes, that would be the very least", I thought, but was surprised when I heard that they were talking about "discount". Discount?!?! Well, one would expect such cost to be carried by the airline, after they had so totally messed up the handling of and caring for my dog, but NO, that expense would have to be on me, since I'd been "thrown out of" the aircraft. Wow, the story was certainly also being messed up here. The policeman offered to drive me to a hotel, but I simply couldn't go to a hotel not knowing how to get to the airport again next morning. So I told the policeman that I wanted to stay at the airport, but I couldn't stay at the gate, as I had to check in again next morning. 

After having been on the underground train god knows how many times and been running around for god know how many hours -  it felt like several marathon races - I arrived in  the check-in hall, where I took a hard chair. Here I sat and nodded my  head for 2 hours, before I discovered that some small 2-seater sofas were located around the corner. A single one was still available, and I lay down and tried to rest with my bag as a pillow and my cell phone set to wake me at 04.00 (12.00 Danish time). Within a few hours, I felt so sick that I repeatedly had to run to the "privy", and fortunately a young couple cared to "keep my couch free" until I was back. At 5 o'clock in the morning check-in opened, and I got my boarding pass and took me to one of several infinitely long row of checkpoints, before I, once again took the now familiar trip to the underground train and arrived at the gate in good time.

It was not until now that I found out why I had been ill during the night. I had not had anything to eat since lunch on the plane the day before. Finally, at long last, I sat on the plane and was allowed to remain on board, and within 60 min.  -  with a 16-17 hour- delay - I arrived in Knoxville, at a time which corresponds to at. Danish time.

Back at my friend's wonderful home, I was reunited with my dog, and I thought that with a "start" like this the rest of the stay could only get better. And it did, indeed, get better than "better".

Since I had, after all, decided to take the trip from Denmark to the United States, I had also signed up  for some shows, but I was not in great hope of being able to do anything than showing the Danish flag. However, I had settled with that and had agreed to accept that as a fact.

Next day, we packed the car with 9 dogs and went to Marietta, Georgia, with equipment for the 4 show days. 4 days of showing........... Yes, I had expected that these 4 days would be a great drain on my energy, but due to the different display of show system everything was easy and painless. We had, in advance, received the ring distribution, and each ring was divided into 4 times throughout the day, so that you could see at which point of time it would be good for you to approximately be in the hall. It is not allowed to set trim tables etc in the hall, so you just arrive with your dog around 10 min. before the time stated in the exhibition material. Here in Denmark, you need to be very timely at the ringside, which is also the case in the  U.S., but the difference is that judging of the breed does not start before the designated time.

To become American Champion, 15 points are required, obtained by min. 2 majors and the rest can be won in the "small" points.





After the 4 shows in Marietta, we had won 4 majors with 3 x Best of Breed and 1 x Best Opposite, which gave a total of 13 points. There were still 2 points missing, but still 2 more shows to come in Knoxville the next weekend. At that point I thought it was possible to get the last 2 points. And with 2 x Best of Breed in Knoxville I got an American Champion. It's a little funny to think back to the first times in ring of honour, where I was ignored, but since I kept coming back I was now greeted, and my dog commented upon in positive terms by the pro handlers. However, we didn't get placed, but were satisfied to be able to take "the walk" in ring of honour. 

Later, I was told that I would have been placed in ring of honour at the last show. Now, how could I possibly have got this piece of information, you are probably thinking. The explanation is that when I flew out of Knoxville and waved goodbye to my committee, I discovered a man smiling at and waving to me further back in the queue. It turns out to be exactly the judge, who judged on Saturday and who judged the group on Sunday.  While I was looking for my gate, the judged arrived and asked very gently about who had won the breed  on Sunday. I told him, "I did", but that I had decided to drive home to start packing. The judge replied that it was a pity, because he had been looking for me in the group. I replied that I had the feeling we wouldn't stand a chance in between all the pro handlers, but with a twinkle in my eye I couldn't resist asking, if my dog would – by any chance - had had a chance since he had been looking after us? Quite seriodly, the judge answered that I had been placed. "Shit, shit, shit" it said in my mind, but this piece of information was a very nice one to take back home to Denmark.

At the U.S. shows, there are not many so-called "owner handlers", but primarily professional handlers, and the word" handling" gets a whole new meaning, since the dogs are being handled both inside and outside the ring. I had the opportunity to talk at length to one of the handlers and she told me how she would prepare a cairn terrier for the ring:

The day before the dog would be washed and blow dryed! On the show day, the dog would be filled with mousse, then blow dryed again, then it should be stained (!), wiped with a towel until the color can't be seen on the towel, and finally "inflated" with various products.

I received this piece of information on the day before the first show, so I did know that the competition was quite different from what I had previously experienced.

In spite of the fact- one might well say – that I did not adopt the American show preparations, my dog, up till today, has been decorated with  9 national championships, Danish, Finnish, German, Gibraltar, Latvian, Lithuanian, Estonian, Luxembourg and American titles as well as Baden Württemberger Sieger 2003, Berlin Sieger 2004, Letvian Winner 2006, Baltic Winner 2006 Terrier and Porto Winner 2007 and Baltic Champion and International Champion.



Given that, elsewhere in the world, dog owners are sending their dog to a handler  that provides for trim and handling, my dog's titles have, in all modesty, been obtained with my trim and handling, and I wonder what my dog could have achieved, if I had been as good as the good trimmers and handlers. America is a different experience, and despite the hassles in the beginning, I am, indeed contemplating repeating the trip some day, and since my dog shall, hopefully, have offspring "over there" early next year, I, as the owner of the sire,  really "ought to" go and see the offspring.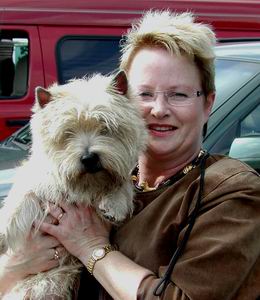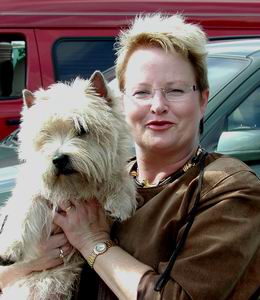 Sometimes it's amazing to think, in retrospect, what a small smart remark can lead to.

For my part, my trip to Crufts (Birmingham, England) started out with such a wisecrack. By Graham Peers, who is a Cairn Terrier judge and breeder with the kennel name Tweedisle, I had been invited to come to Birmingham and watch Crufts, to which I humorously commented that I would only be going to Crufts, if I had a dog to show, and that it wasn't possible to take my own dog. Graham replied that it truly was the plan that I was supposed to show his 7 registered dogs, if I came over!

So now I had got myself into trouble! I thought it was all just for fun, but somebody in England considered it serious. I went to UK and had the day before Crufts at my disposal to get to know the dogs I was supposed to show. Now, there were only 6 dogs to show at Crufts, because the dogs had played hairdresser with the 7th entered dog, and I had to agree with Graham, when he said the hairstyle might not be able to do at Crufts.

Before I left, a number of people said: "Now keep your hands buried deep in your pockets" - meaning that I should not start grooming the dogs. Surely, I had no such thoughts, as the grooming style in UK is much different from the style in Denmark. Well, it didn't work out as planned, since Graham and I quickly agreed that there was just a tiiiiiiny bit to be corrected on a topline, and within a few hours one hair took the other. Fortunately, both Graham and his wife Hilary were enthusiastic about the result, and then I could, indeed, be too.





The day of Crufts dawned, and we had to leave before a certain gentleman got his shoes on (a Danish saying, which might not be understood in English ?). After a 90-minute drive we arrived in Birmingham, unloaded the first 4 dogs and while walking towards the hall, Graham says: "We need 'all two!" and I answered: "Which 2, what are we lacking, have we forgotten something?" Now I just had to accustom myself to speak a foreign language, but I felt I was doing ok, but understand all that Graham was saying - I couldn't. We were continuing towards the halls, when Graham points up saying: "We need 'all 2". It turned out that I was staying with a man who spoke a special kind of English, and "forgot" to put the H in front of some words. So, it turned out he was speaking of "HALL 2" 

(During the rest of my stay I got better at putting "forgotten" "Hs"in front of other letters here and there if I didn't understand what was said to me, but more funny episodes were to come up).

Crufts was indescribably large in the number of halls, rings, people, dogs and stalls and had a display system, of which I do not understand how even the "natives" can understand it. The classes were called, you got into the ring and your dog is being judged, but you get no critique. All dogs are in the ring, and then the judge will select the winner, no. 2, 3 and 4. You walk out of the ring without having the faintest idea of what the judge thought about the dog.

However, critiques are given on the 3 first-placed dogs, but I understood that that critique is not given to the exhibitor, but can be read on the Internet. My own efforts at Crufts can be described briefly: I came into the ring more or less on time, while once during another class I stayed in a little bit too long. I thought that the judge had pointed me out in the selection of the winning dogs, but since we were 5 in the ring, I thought that probably one hadn't got the system right, but when the judge pointed at me again and shook his head, I understood I was the one who had misunderstood a "call". The best result was a 5th place, but on the other hand, the place was almost as good as a 2nd place, since none beside the class winner goes further through to the finals ;-)

The winner was a wheaten bitch, Penticharm Celtic Princess, owned by Lis Hooton, while BIM was Carradine Toblerone, owned by Dawn Formosa. It's worth noting that last year's winner, Rasken's Rusty Red Ruby, was no. 2 in open class.

I had hoped and was firmly convinced that I was to see some dogs at Crufts, which would simply take away my breath, but I must admit that that wasn't quite the case. There were many lovely dogs, but none of the dogs that I liked were to the liking of the judge. On the other hand I was extremly impressed by the way the dogs are handled. All dogs are shown on a loose lead, and despite the loose lead they all walk with their head and tail held high, and all the dogs just SHOWED like a dream. I must say this really impressed me.



When the judge has a dog on the table, it is also common for other handlers to walk around carrying their dog, talking to the right and left, or even to sit in the audience and talk .... I considered that a somewhat " too laid back attitude" to show, but as Graham said: "Do not get it wrong, they always have one eye on the judge and the other one on the dog!".

Another experience which shows that Englishmen are more relaxed than most people here at home, is the following: While I am about to get a bitch ready for the ring, a lady near the table is explaining to a couple how a cairn terrier should be groomed. Then the lady comes over, puts her hand on the back of the bitch and pulls her hand all the way from the tail to the neck leaving the coat standing right up, while saying to me:" I'll just show them how to groom a Cairn!" Those of you who know me might almost be able hear my tone of voice when I almost hit her hand while answering: "NO WAY !!!... Can't you see I'm getting this dog ready for the ring ?? "

On our way out of the hall we stopped to follow the competition in the group via a giant television screen, and suddenly I got the impression of seing a familiar face, and, indeed, a man gets up, comes over to me, shakes my hand and even gives me a kiss on the cheek and says "Hello love, what are you doing at Crufts?" "Well", I replied, "I was imported from Denmark to handle some dogs ;-)",  and then we had a good chat about Crufts and about his experience, when he judged cairn terriers in Denmark during February. The friendly gentleman was Tom Hehir from Ireland, and he remembered me! I wonder, if the "sound" I had made in the ring when he gave Ringo his first CC was what he remembered? Probably. Imagine meeting someone you know in the huge crowd and more than 22,000 dogs - it was really a wonderful experience.

On Sunday we were invited to visit Judith Parker-Tucker and her completely indescribable dog world. It was overwhelming. One is greeted by huge, thick walls around the entire building, and the entrance is a large iron grille with a padlock! Arriving 20 min. later than agreed didn't go without a comment (with a smile). Now we were offered a cup of English tea - tea with milk, it is. They do not even ask if you want milk in the tea or not, but it actually tastes a lot better than I had imagined. Well, each with a mug, the tour began. The tour cannot be described, but must be experienced.

Only in 2 places I saw 2 dogs in one pen. One place was occupied by 2 beautiful dark brindle puppies of about 3 months of age, and the second place by 2 seniors keeping each other company. ALL other dog had their own pen of between 25-30 m2 built with fences, a row of tiles along the fence and the rest laid out with grass. In the middle of this area, each dog had it's own house of approx. 12 m2. "How many dogs were there?", you might think. The answer is: I gave up counting the dogs when I had counted around 25-30. So I have no idea of the exact number. I was so impressed by the amazing way she had her dogs and I also think it is worth noting that ALL dogs were so well taken care of and well groomed that each and every one could go directly into the show ring. "Well, there are probably many hands to help taking care of it all", you think? "No", is the answer as everything was done by JPT and her sister, Daphne.

We had hoped that the visit would last a few hours including lunch at the restaurant at the local inn by the river, but there was so much to see and hear, that we had spent 6 hours before starting the drive back again. This visit made an impression on me at least as great as the show the day before :-)



Close to the home of Hilary and Graham Peers lies an old castle, built in 1153, which besides the palace also has stalls for horses and dogs, or rather hounds used for hunting foxes. On the way home from JP, Graham narrates:: "At the castle, you know, they feet the 'owls ("owls" is what I'm hearing) 6 days a week and one day they do not get anything to eat." Well, I thought, it sounds ridiculous, who climbs up the tower to the owls, or maybe it's tame owls, they have in the cages? So, I ask why they feed them? Graham doesn't understand this; on the contrary, he looks at me with a stupid expression, so I try to rephrase the question why they even feed them. I can only say that his expression didn't become less foolish and he looked puzzled, so I asked, "Do they feed them living or dead mice?" Graham looked at me dismayedly and said: "The 'owls??" This is were I remembered his lacking of using the letter H and asked: "Are you talking about the hounds?" and while he breaks down laughing, he answers: "Yes of course, what are you talking about?" Yes, I had to confess that I thought he was talking about owls.

My two Clapton house shadows: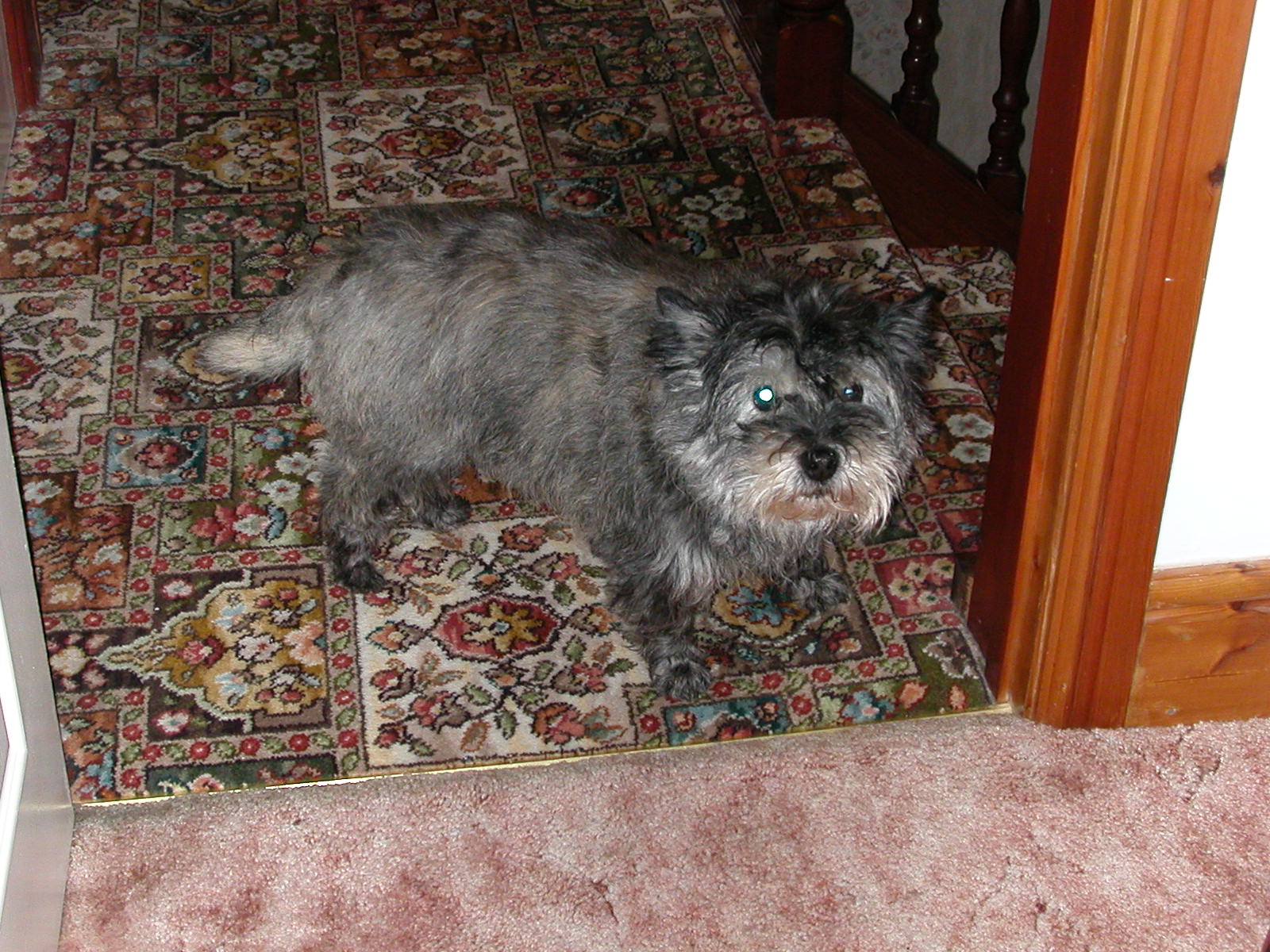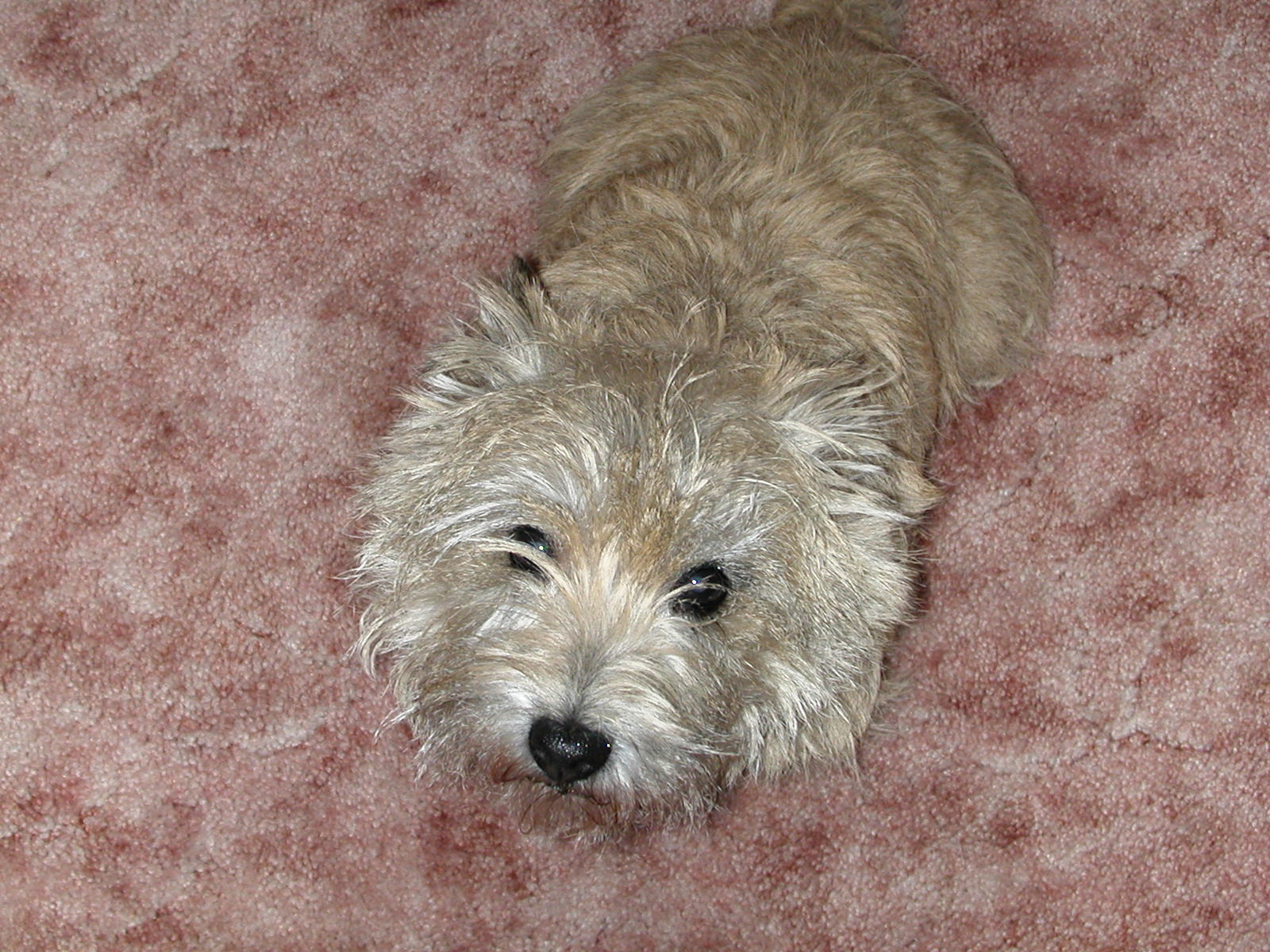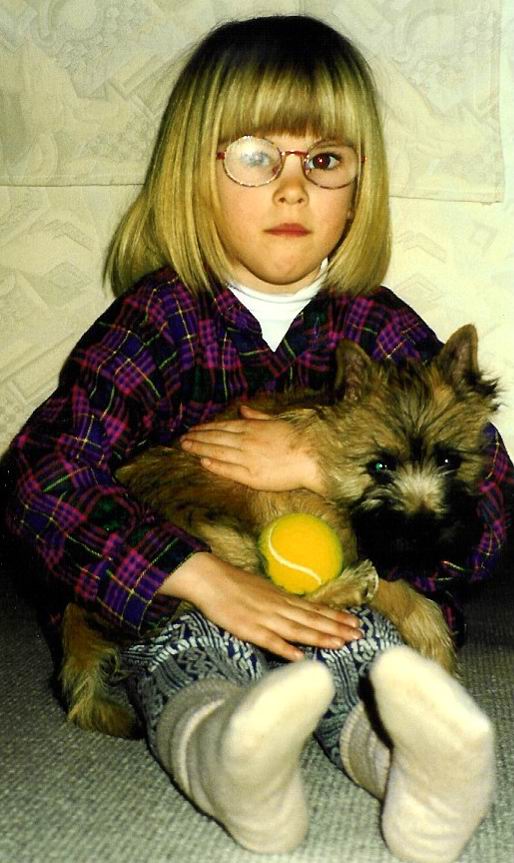 In the month of March of the year of our Lord 1996, I brought home our first dog, a beautiful and bold red cairn terrier. Like all pedigree dogs, he has a long noble name: Tam O'Shanter's In The Nick Of Time – at our place he is called Nicky.

In many ways, it was like having a small child in the house – no lie-in in the morning -  me having to get up early and spend the day removing "lakes" and "poops", since the newpapers  weren't hit every time. The family also came over to see the miracle, and during one of the visits my mother (who had a dog as a child) observed that Nicky was moving his right hind leg in an odd way. During the following days Nicky was studied with deep concentration regarding his right hind leg, and it actually appeared to me that he was somewhat kicking this leg to the side. I tried to examine (!) him, but he wasn't sore, and the legs seemed to be equally long, so, since we had an appointment with our vet coming up within a short period of time, I didn't do anything further.

This short period of time, however, was never quite allowed to pass, before early one morning – coffee still brewing, oatmeal still in the microwave, me just coming out of the shower-  Nicky came in from the garden and lay down on the floor, from where he could follow the morning activities in the kitchen.

Suddenly I hear a scream (a mixture between a baby and a pig scream), and turn around just in time to see Nicky spinning around in 1.5 circles on the floor as if trying to catch his tail. Definitely, he isn't playing a game, however, because he's using only 3 legs, while screaming fervently. 'There is something very wrong with the right hind leg, he doesn't use it - you have to call the vet',  my husband, Henning, shouts. With trembling hands I manage to dial the telephone number of our veterinarian (who, fortunately, maintains 24/7 service hours) and explain to the vet that he must come to our house NOW(or perhaps I rather ordered him to do so), since there seems to be something terribly wrong with our little puppy. After having listened to my explanation, the veterinarian tells me to bring our puppy to his clinic , since -  according to my explanation - X-rays might probably be needed. That,  of course, really makes sense, I think to myself, and start giving orders right and left for everybody to get rolling and finally get off to the vet ….

Meanwhile, Nicky tries several times to get up, but falls over again and again, whining all the time. "I'll be damned, if I take him, if he bites," says my husband. So I put Nicky under my arm, and the whole family gets into our  car. At that time, Nicky was absolutely not happy with driving, so during our drive to the vet, I – by turns -held him over the plastic mat in the bottom of the car, when he was vomiting, and tried to fix his right hind leg.

The right hind leg, I thought, is almost completely locked and jammed along the belly, and I couldn't the least move the leg from where it was stuck. Also, I was thinking why I hadn't gone to the vet the moment my mother pointed out that there was something wrong with his leg. Well, we finally arrived at the vet's, and the vet stood ready and greeted us at the door. I found it unneccesary for my husband and kid to have to deal with the "experience"  of the vet telling us that we would have to go home WITHOUT our dog, so I asked the two of them to wait in the waiting room. I was convinced that this leg problem could not be resolved, and didn't want our daughter to stand by and hear and see the end coming, but somehow we eventually all ended up in the room with the vet , while I tried to place Nicky on his 3 legs on the table for the vet to check out the problem.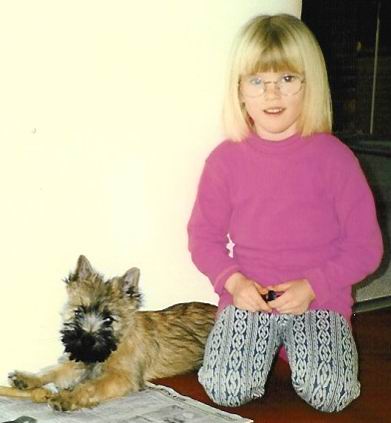 My heart was in my mouth, when the vet began to examine Nicky. After a short while, the vet said: 'Maybe it's not so bad', and I felt my heart sink to my throat. The veterinarian went on examining, and we held our breath! "Done!," the vet said, and shortly after Nicky stood on ALL of his 4 legs.

'This is an extremly skilled vet', I thought, and, of course, asked what was wrong. 'Well', the vet replied, 'After all, it was just the nail which was stuck in the collar!'

My heart fell into it's right place, but now I had a hard time dealing with the embarrassing situation. My husband tried to maintain his composure by asking what would be the consultation costs. With a friendly twinkle in his eye, the vet replied, that it would cost us nothing. No wonder, since he would be spending many funny hours telling this story to others (in the years to come)!

I tried to talk about something else and enquired after one of the employees that I know – which, later, proved to be a very stupid idea. When I came back days later for the inoculation appointment, I encountered my friend, who was walking by, carrying a dog from surgery. 'Wait, wait,' she cried, 'I need see your dog!' I waited for a moment, and my friend came over and lifted up Nicky. Then she turned to the lady at the desk, pointing to Nicky and said 'This is the one with the collar!'. I had to wait until they had finished laughing, before I could have my dog back and say, 'Well, well goodbye and have a nice day'.


Even now - many years after this incident – it happens that somebody asks me to tell 'the story of the 3 legged dog' and then, occasionaly, some other courageous fellow being 'dares' to talk about how he or she has, once, made a (small or big) fool of him-/herself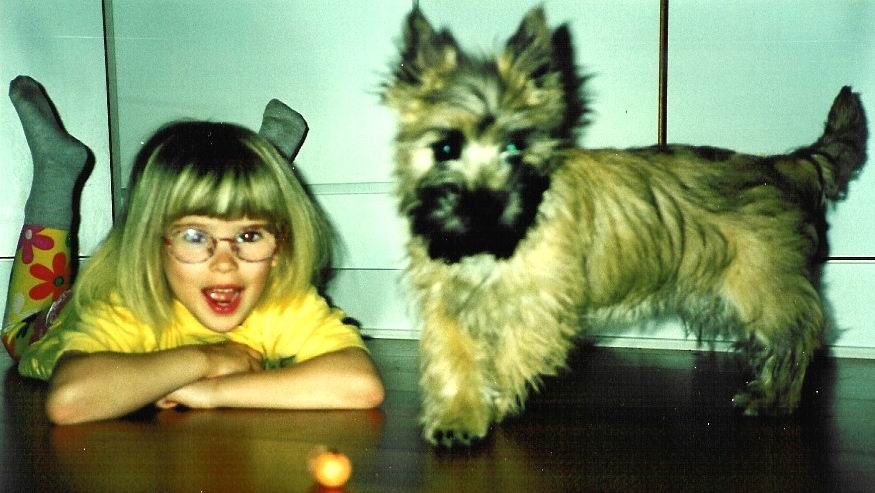 ---