Kennel Nicktime Cairn Terrier - Why Cairn?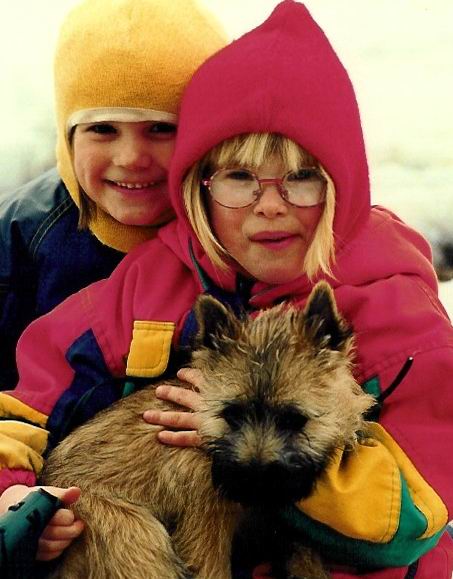 For my part, I have to admit that it was a coincidence as I would actually rather have preferred a somewhat larger dog, but since our daughter was only 5 years old at the time, it was essential to find a smaller dog that wouldn't run her down when playing.

When considering the purchase of the first dog, a lot of people probably tend to think back and select a dog from childhood carefree time, but I never had a dog as a child. So I went to the library to borrow books - many books :-) - which were thoroughly studied over a period of almost 2 years. Finally, there were 3 options left, and when the possibilities were presented to the family, there was no doubt that the choice had to fall on a Cairn Terrier.

Our choice of the Cairn Terrier was confirmed one day in Nyborg – at that time there still was a  ferry service  between Funen and Zealand. I was supposed to pick up some family, and while we were waiting for them at the terminal, we watched the crowds disembarking  the ferry. Among the people comes a man with the largest black German Shepherd I have ever seen. The German Shepherd quite clearly radiates that he's a big big boy ...... until, from behind, a Cairn Terrier comes pushing forward between all the people in front of him in an irresistible urge to be first, and ends up by the side of the German Shepherd. I can assure you that this huge black German Shephard was told - in a very clear dog language - to step aside to make space for the Cairn Terrier!

I was somewhat worried that, in the blink of an eye, the little Cairn Terrier would be referred to his place in the pecking order, but no  .... It was the German Shephard, who had to bow to Cairn Terrier.

Often, you will see the attitude from a Cairn Terrier showing that he is not even aware of the fact that his height amounts to only about 30 cm at the shoulders.

So when we say that a Cairn Terrier is a BIG dog in a small body, that's absolutely right.

The next question, then, was to decide how and where to find a Cairn Terrier, who would also meet the descriptions of all the books? The Danish Kennel Club was contacted and here I got the phone number of the breed representative, and I got in touch with Helle Møller Bjerregaard, Kennel Tam O'Shanter's.

In March 1996 we got our first Cairn Terrier, who was bought as a family dog. Later, however, he  was to turn out to be a little more than that.

A small warning: If you buy your own Cairn Terrier you risk becoming infected with the virus that makes you crave for one more and one more and ......